Employee timesheets can be populated directly from a remote Time Clock (e.g. GPS or Biometric Facial Recognition). 
Our GPS-based Time Clock allows staff to clock in to their work site easily via a centralised platform or their own mobile device based on proximity to their work location. This is based on the company's unique network service in addition to the GPS on the employee's mobile device
Note:
In order to use this feature, you must turn on the GPS for each employee in Employee Settings > Pay & Rewards > Timesheet Source > GPS or GPS (via Roster).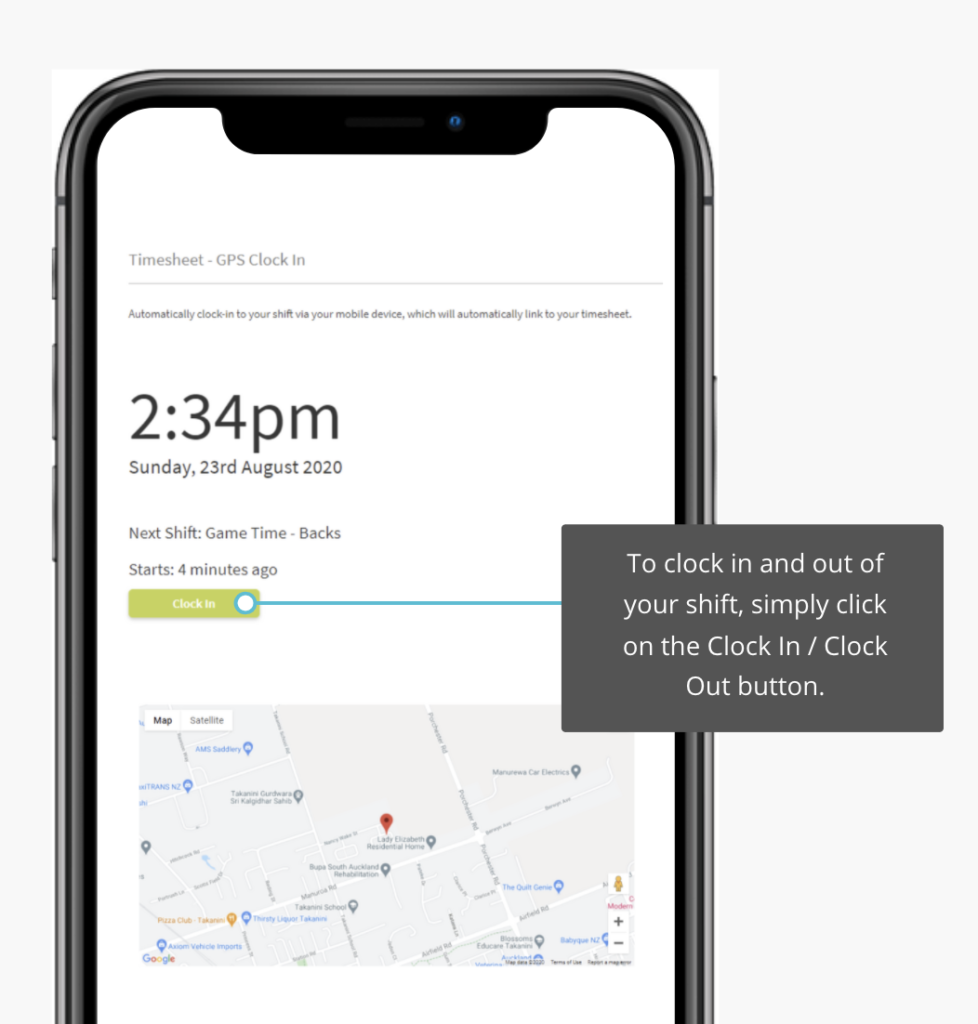 GPS-based timesheets are used for your employees to clock in and out easily and wirelessly via their own device or a company device at a set location based on proximity to their work location. The GPS time clock will only allow you to clock in once you are at the location specified on the shift. Employee clock-in/out times are automatically recorded and added to the timesheet in real time.
Employees can clock in and out via the GPS Time Clock by selecting Time & Attendance from the side menu bar and clicking GPS Time Clock. 
Note:
Users can be restricted on how early they can clock in and if these times are rounded. See Company Settings > Time & Attendance > GPS Early Clock-in / Round GPS Timesheets.
To set up the GPS Time Clock feature, ensure your location settings are turned on. If you're clocking in via a computer or kiosk at your workplace, sometimes the internet service provider doesn't provide an accurate location. An alternative solution to this is to use the IP address. You can find your IP address and enable location services by following the below instructions:
Allow IP address clock in. This is found by going to the Time & Attendance tab within your Company Settings and toggling the setting to ON.

2. Add the IP address of the workplace location you want staff to clock in to. This can be done by going to the Locations page, selecting the location, and adding the IP address in the field provided. You can find out your IP address by clicking the link next to the IP Addresses heading where it says 'Click here to find out your current IP address'.
(Note: The first step must be completed prior to completing this step.)
Display Live Status Clock-in on Roster
Rosterit also offers the ability to show a "live status" of who is on-site and when they clocked in via the main Roster page without having to run a report. This can be done by toggling the '
Display Clockin Notifications on Roster
' option to ON in your Company Settings under Preferences.

Once the above setting is turned on, you will be able to see who has clocked in to a shift by going to the Roster page and selecting the Day view. You will either see a green or red dot next to each employee who is rostered onto the shift. A green dot will signify that the employee has clocked in, and the red dot will signify that they have not yet clocked in for the shift.

Still need help?
If you have any technical support queries or need help resolving an error, please visit our Frequently Asked Questions (FAQs) or submit a ticket for our technical support staff.
Submit a Support Ticket
View FAQs